HEALTHCARE DAY RESUMES IN-PERSON ON THE 3RD TUESDAY OF EVERY MONTH. VIRTUAL HEALTHCARE WEEKS (via Zoom or Phone) ARE SCHEDULED ON THE LAST WEEK OF EVERY MONTH. For more information click HERE.
Holistic Healthcare Available to All
Our mission is to facilitate collaborative holistic healthcare and education in our local community

Holistic Healthcare
We advocate healthcare that addresses body, mind, emotion and spirit, and that favors the least invasive modalities whenever possible.

Unconditional Love
The essential heart of health and healing is love; it is the foundation of trust and transparency in human interaction.

Collaboration
The healer and the patient are equal partners in the healing process and their interaction is one of deep listening and mutual respect.

Empowerment
We all have the capacity to heal. Holistic healthcare empowers this capacity in both the healer and the patient.

Self-Realization
Everyone is capable of being in touch with the field of all Knowledge. We seek to fulfill our highest potential and to inspire others to do the same.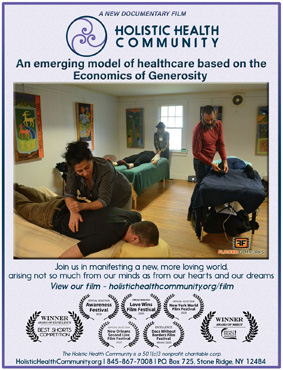 View our 22 minute documentary film,
HOLISTIC HEALTH COMMUNITY: an emerging healthcare model based on the Economics of Generosity.
Support the Holistic Health Community
Donations to Holistic Health Community are tax deductible to the fullest extent of the law.
Checks should be made out to "Holistic Health Community" or "HHC, Inc" and mailed to:
HHC, Inc

PO Box 725

Stone Ridge, NY 12484
Upcoming Events

November 11, 2021, 7:00–8:30 pm

LIGHTFIELD: expand your potential and create a new reality with Marika Ray

Join us for an online Zoom talk with Marika Ray, the Administrative Coordinator at Lightfield. Learn about the Lightfield and its newest upgrade, which surrounds you in even higher vibrational energies than before. Find out how you can expand your own potential using Lightfield's technologies!
We are grateful to the SPONSORS of Community Holistic Healthcare Days:

Marbletown Community Center provides our space

The Green Cottage donates a beautiful bouquet of flowers

The High Falls Food Coop donates healthy food for our clients and volunteers
We also wish to thank our
CO-SPONSORS

:
The Lifebridge Foundation Inc. for co-sponsoring our annual sound healing concert in their beautiful Sanctuary

The Rosendale Theatre Collective for co-sponsoring films related to health and healing at the Rosendale Theatre
We are deeply grateful to our individual donors and the Morty and Gloria Wolosoff Foundation, who enable us to offer our programs to the community free of charge.
Most of all, we are grateful to our amazing staff of dedicated volunteers.