Holistic Health from Soil to Soul
Active participation in one's life within a loving community supports optimal wellbeing.
The Holistic Health Community is committed to supporting all people in creating more balance and health in their lives. Through a wide array of health supportive modalities the HHC offers care to the public free of charge. Sacred reciprocity is the exchange. We ask folks to give back by offering a donation or paying-it-forward through volunteering or doing a generous act of kindness.
Connecting with nature is paramount in living a vibrant life. Earth connective practices of simply being in nature to the practices of building healthy soil and making healthy food choices are of such importance at this time. Healthy soil creates healthy food. Food is the original medicine.
Soil to Soul
provides earth connection programming throughout the four seasons. This programming promotes a full spectrum of practices in connection to food, land and community, as well as experiences and perspectives that consider the cycles of life; all aiming to support a healthy mind-body-spirit and Earth.
Bird watching, flower arranging, farming, fermenting veggies, making herbal remedies and cooking nutrient-dense meals; to sprouting microgreens, propagating houseplants, planting seeds and composting, are all learning opportunities through Soil to Soul which promote holistic health in its participants through hands-on activities that exercise the mind-body-spirit and celebrate the vital relationships to one's environment and the food that we eat.
Regenerative farming practices highlight the life force energy that heals, supports and sustains wellbeing available in the natural environment and vibrant in nutrient-dense foods that people can grow themselves, harvest wild or source within their community.
We give back to the Earth through the little choices we make each day as well as the practices of composting and growing plants that capture carbon, nourish soil and make the environment beautiful.
From these practices we lead happier lives and from a healthy mind-body-spirit imagination soars!
Interested in joining our team! Our goal is to engage the public in connecting the dots between the cycles of life, ways to be in relationship with the natural world, and accessible means for feeding our guts with healthy "soil" for a healthy mind-body and soul! If this speaks to you, please reach out! We'd love to meet you.
Click here to visit SOIL TO SOUL'S calendar of eventS
"It is not the soil itself,
it's the soil life
that is the most important element."
~ Geoff Lawton

Enjoy this video by Sadhguru of SaveSoil
---
REACH OUT If you'd like to offer a program through Soil to Soul.
Get outside and be well!
Diana
--
Diana Brenes Seiler, LMT
Director of Soil to Soul Programs
SoilToSoul@HolisticHealthCommunity.org
Texting is great, or call: 845-641-5311
HolisticHealthCommunity.org
---
We are grateful to the Morty and Gloria Wolosoff Foundation for their support in making Soil to Soul programming possible.
---
Scenes from, "In the Medicine Gardens."
Photos taken by Diana Seiler in the Medicine Gardens, Sunday 6/12/22 with Ustya (showcasing perennial medicinal herbs, flowers and annual veggies among other beautiful things). Plant sit, Garden tour, and Plant walk.
---
Here's a scene from Food Forest Connection and Feasting
with Jared Williams at the Sharestead 84 Pine Lane, Saugerties, NY, Sunday, June 26, 2022.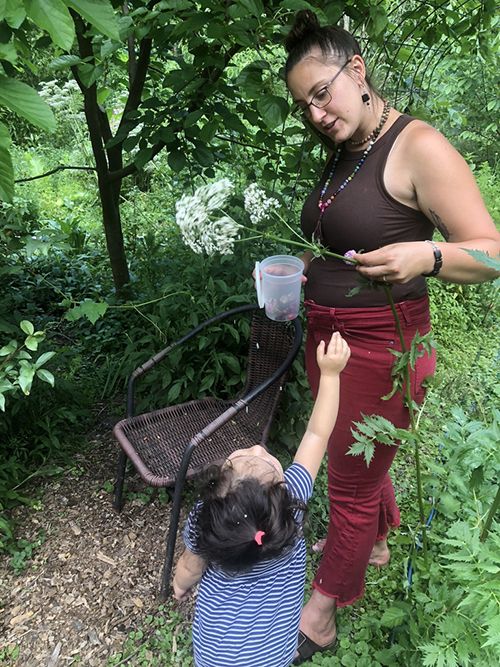 ---
What a fun morning touring Lee Reich's Springtown Farmden!
This Soil to Soul offering was packed with stories, tried and true experiments in building incredible soil, growing plants of all kinds and handling pests.
What a wealth of knowledge he shared and a great example he showed of what can happen in a place when one keenly observes and interacts with the natural world with respect and great interest.