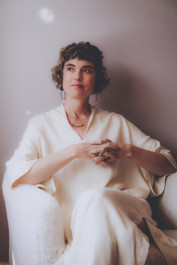 Katie Todd is a Reiki Master, a Pilates Instructor, Co-founder and teacher with The Galactic Priestess Academy, and founder of The Flow of Grace healing modality.
Katie's mother introduced her family to energy work when Katie was 12 years old. That initiation woke up her soul and lit her passion for the Divine. She has since studied with many gifted healers, shamans, and spiritual leaders. As a Phi Beta Kappa graduate of Indiana University, Katie holds degrees in Psychology, Fine Art, and East Asian Studies. She lived and taught in Japan, and was a wholistic home chef back in the Midwest.
Katie created her own unique brand of energy work, The Flow of Grace. This work is best described as a gentle, yet high voltage current of energy containing the soul's wisdom channeled into the body. This loving current deeply nourishes and fortifies the body, emotions, and psyche. It efficiently clears out blockages, and unwinds outdated patterns and conditioning. Clients feel renewed, clear, connected and aligned. Grace guides and flows into each client, as Katie listens to the guiding intelligence of their body and soul.
Modality: