Dec 1, 2021, 4:00–8:00 pm
Free
People's Place Wellness Empowerment Center
775 Broadway, Kingston NY 12401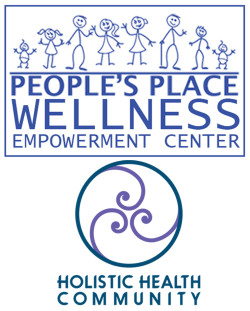 People's Place and The Holistic Health community are striving to enhance the quality of an individual's life. We are collaborating to bring you our First Holistic Healthcare Event with 5 practitioner's offering:
Reflexology
Thai Massage
Brennan Healing Science
Therapeutic Yoga
Shamanic Reiki
This is a perfect opportunity to experience various modalities of treatments you may not have even been aware of. The sessions are free and last from 30-45 minutes. Descriptions of the services will be available in the booking portal.
People's Place Wellness Empowerment Center
775 Broadway, Kingston NY 12401
All participants are required to wear a mask inside the Wellness Center whether or not they are vaccinated.
ONE SESSION PER PERSON: We ask you to make an appointment for one session only so the maximum number of people can benefit from this event.
Practitioner List & Modality Description:
Reflexology with Fatima Deen
Reflexology reduces stress, brings about relaxation & promotes balance and normalization of the body naturally. The benefits are numerous and stimulates well-being in all the body systems. It is one of the best ways I know to relax, revitalize & rejuvenate your body and mind.
I've been practicing reflexology for the past 4 years and totally love the balance and well being it brings my to clients. I feel very blessed to be able to team up with Sakinah and offer this service as an option to compliment her amazing work.
Embrace a new habit and see what it may do for you. I'm looking forward to relaxing you. "From my Heart to your Sole"
Reflexology:
Reflexology is a natural healing art based on the principle that there are reflex points on
the feet and hands which correspond to every part of the body. Through application of
pressure on particular areas of the hands or feet, reflexology serves to relax tension,
improve circulation and promote the natural function of the related area in the body.
Thai Massage with Diana Seiler
Hudson Valley Thai Massage is owned and operated by Diana Seiler, LMT. A Hudson Valley native, Diana sees clients throughout the Hudson Valley and at at her office in New Paltz, NY. She is a massage therapist in the Wellness Center at the Omega Institute for Holistic Studies in Rhinebeck, NY, and is a senior massage instructor at the Finger Lakes School of Massage in Mount Kisco, NY. She schedules house-calls throughout the area.
"As a licensed massage therapist, I have experienced endless wonder and deep healing available through therapeutic massage. I feel blessed to have found this career which I enjoy greatly and one that is so helpful to others. Massage is my means for supporting people in finding peace, balance and joy in their lives. Through bodywork I am able to assist people in bringing their bodies to a place of ease and comfort so that life can be enjoyed without persistent pain and with minimal stress." —Diana
Thai Massage:
Thai massage, or "Thai yoga massage," is a traditional healing system combining
acupressure, Indian Ayurvedic principles, and assisted yoga postures. Acupressure,
stretching, conscious breathing, range of motion, and energy work are mixed together
into a soothing and healing experience. For thousands of years this form of healing has
been used to treat numerous ailments and discomforts as well as a tool for maintaining
wellness.


Brennan Healing Science with Cornelia Wathen
Cornelia Wathen is certified as an energy healer by the Barbara Brennan School of Healing, as a practitioner of Dynamic Stillness (advanced biodynamic craniosacral work), as a practitioner of Reconnective Healing and The Reconnection, as a practitioner of The Emotion Code, as a practitioner of Crystal Dreaming and as a teacher of Soaring Crane Qigong. She was a student of The Diamond Approach to Realization from 1997 to 2010. She is one of the founders of The Holistic Health Community, Inc., dedicated to affordable holistic healthcare and education in The Rondout Valley area of New York State.
Brennan Healing Science:
Brennan Healing Science is the practice of healers who have completed the four year
Healing Science Training at the Barbara Brennan School of Healing. It is an
enlightening system of healing that combines hands-on healing techniques with spiritual
and psychological processes touching every aspect of life. Dr. Barbara Brennan, the
School's founder, is a world-renowned healer, teacher and former NASA physicist, and
the best-selling author of Hands of Light®, Light Emerging and the Seeds of the Spirit®
book series. She has devoted the last thirty years to research and exploration of the
Human Energy Field.
Therapeutic Yoga with Donna Nisha Cohen
Donna Nisha Cohen MS, NCYT Member of Organizing Council for RVHHC Coordinator of Holistic Self-Care Classes Donna has a Masters in Applied Linguistics, Trained at Bank Street School of Education. She is a retired ESL (English As a Second Language) teacher, a community organizer and a Wellness Educator. Donna began community organizing in the 1970's as a way to strengthen and empower communities, families, and individuals of diverse backgrounds and orientations. She helped create The National Congress of Neighborhood Women in Williamsburg, Brooklyn. The NCNW combined community based education for working-class women with apprenticeship work programs designed to develop effective community leaders. Donna 's interest in empowering women was also reflected in her tenure as president of the Queens Chapter of The National Organization for Women. Donna became interested in personal transformation in 1978 when she began her study of yoga and meditation. She is currently a 500-hour nationally certified yoga teacher trained at Kripalu and is the director of Yoga On Duck Pond: Center for Self Discovery Through Yoga in Stone Ridge, NY. She has in recent years developed a therapeutic approach to yoga influenced by her study of Feldenkrais. She is a certified An Embodied Life Practitioner. An Embodied Life includes awareness practices utilizing meditation, movement, and guided self-inquiry. Donna offers individual Guided Self-Inquiry Spiritual Counseling sessions as well as yoga classes and private yoga sessions. Donna remains curious about how we can cultivate self-understanding, clarity and love in our lives and infuse those qualities into our families, communities and the world. Donna is certified in The Realization Process: Meditation, Counseling and Movement. She is currently a student in Pathwork. Donna combines Focusing, Realization Process, and Pathwork in her Spiritual Counseling Practice.

Therapeutic Yoga:
Yoga therapy is a type of therapy that uses yoga postures, breathing exercises,
meditation, and guided imagery to improve mental and physical health. The holistic
focus of yoga therapy encourages the integration of mind, body, and spirit.

Shamanic Reiki with Alannah Henneberry
Alannah is an energy worker and certified Shamanic Reiki Healing Master and has studied a
variety of healing modalities including but not limited to shamanic bee-tending, trance healingand mediumship, plant medicine, and ancestral trauma healing. She uses earth-based healing energy and refers to ancient European ancestral traditions to guide her work. Alannah is a peer-reviewed published Scientist and has a Bachelors of Science in Biology from Marist College, with a minor in Public Praxis (a study of global awareness, solidarity with those subject to injustice, and public work with a view toward a more just and humane world). Additionally, she holds an internationally recognized Permaculture Design Certificate (PDC). Her passion is growing and making medicine, tending to her bees and animals on her woodland homestead and running the New Paltz Open Air Market. Alannah has 20 years of experience working with and advocating for underserved communities, both locally and globally. She has worked on various projects advocating for healthcare and setting up free-clinics and programs for communities in developing countries. More recently she has joined the mission to help advance
the Holistic Health Community's Holistic Healthcare to the People! initiative, aiming to make holistic healthcare accessible to locally underserved communities.
Shamanic Reiki:
Shamanism is an ancient indigenous practice that combines energies of earth, animals,
plants, and spirit to bring about healing on a soul level. Reiki is an alternative healing
practice where the practitioner serves as a channel of universal life energy for the
individual with whom they're working. Shamanic reiki blends these two ancient practices
into a spiritually-guided healing modality that allows individuals to reconnect to nature,
and spirit – and ultimately, to themselves. Each session is a unique blend of healing
specific to an individual's needs, and is guided by their innate intelligence, or higher self,
activating one's own natural healing process. The practitioner is not "the healer" per se,
but rather the healing facilitator — the individual is healing him/herself. Healing can
occur on any combination of a multitude of levels: spiritual, mental, physical and
emotional. People who experience this type of energy healing often report feeling more
energized, balanced, peaceful, clear, and less stressed. Some sleep better, find relief
from physical maladies, or experience spiritual awakenings. The effects may be
immediate, integrated over time, or both.