Nov 27, 2023, 7:00–8:30 pm
Free through Sacred Reciprocity
Zoom Video Online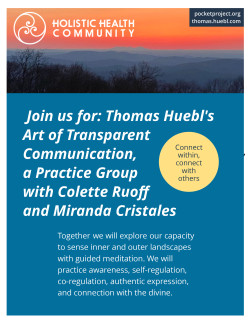 4th Monday - Monthly via Zoom
Monday, November 27
7 - 8:30 pm
Based on the teachings of Thomas Hübl, PhD, a renowned teacher, author, and international facilitator with more than two decades of study and practice on healing collective trauma, whose lifelong work integrates the core insights of the great wisdom traditions and mysticism with the discoveries of science.
We are very excited to continue to offer the practice group space as an ongoing commitment via Zoom on the 4th Monday of every month at 7 pm Eastern Time.
Our next practice group will be held Monday, November 27, at 7:00 pm EDT. Please arrive a few minutes early.
If you couldn't register last time and would still like to join, we have reopened the registration. Please follow the link and register below. Once you register, you will receive an email reminder each month with a Zoom link to access the group.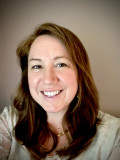 Miranda Cristales works clinically as a Physician Assistant in Plastics and Reconstructive Surgery and academically as an adjunct faculty instructor at Michigan State University, College of Human Medicine, and PA Medicine Program. Miranda's holistic approach to patient care recognizes the importance of healthcare provider self-care and wellness, and she uses a trauma-informed system-sensing approach to build healing networks for healthcare workers. She hopes to improve connection and integration across health-related disciplines to inspire greater support for all practitioners who provide patient care. She is currently a Thomas Huebl's Timeless Wisdom Training student and is certified to facilitate the Art of Transparent Communication Practice Groups.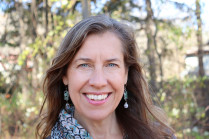 Colette Ruoff is a transformational coach and facilitator in organizations with leaders and teams. In addition to her training in coaching in facilitation, she is trained in Gestalt Psychotherapy, Yoga, Buddhist Meditation, Plant Spirit medicine, and leading Wilderness Trails for groups. She is passionate about personal growth and building a capacity for inner knowing and coherence. She created the non-profit, SageArts, in the Hudson Valley to honor and celebrate the wisdom of life experience. She has been studying with Thomas Huebl for a couple of years and is certified to facilitate the Art of Transparent Communication Practice Groups.