Oct 6, 2022, 5:30–7:30 pm
Free
Oct 6 & 13: The Kiva 3588 Main St, Stone Ridge, NY (behind MaMA)
Oct 20: Marbletown Community Center3564 Main St, Stone Ridge, NY 12484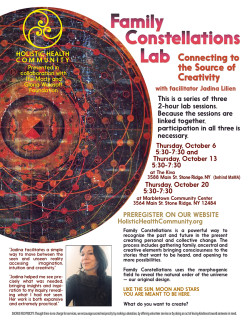 Family Constellations is a powerful way to recognize the past and future in the present creating personal and collective change. The process includes gathering family, ancestral and creative elements bringing consciousness to the stories that want to be heard, and opening to more possibilities.
Family Constellations uses the morphogenic field to reveal the natural order of the universe — our original design.
LIKE THE SUN, MOON AND STARS
YOU ARE MEANT TO BE HERE.
What do you want to create?
This is a series of three 2-hour lab sessions, Because the sessions are linked together, participation in all three is necessary.

Thursday October 6, 5:30-7:30 -Kiva
Thursday October 13, 5:30-7:30 -Kiva
Thursday October 20, 5:30-7:30 -Marbletown Community Center
LOCATIONS:

The Kiva
3588 Main St,
Stone Ridge, NY 12484
(behind MaMA)

Marbletown Community Center
3564 Main St,
Stone Ridge, NY 12484