Oct 23, 2023, 6:00–7:00 pm
Free through Sacred Reciprocity
Marbletown Community Center
3564 Main St., Stone Ridge, NY
-The best way to get out of your head is to move your Body!
GDF is a dance form meant for everyone at ANY age and fitness level. It
is geared to raise our internal vibration, spark joy, and reconnect to
our body, power, and purpose. Our bodies tell our greatest truths if we
can learn to listen and trust, our growth potential is unlimited. When
we begin to move, dance and connect to our bodies, we also unlock
"stuck" parts of our lives, heal old wounds, and feel healthier. So come
celebrate your unique self and give thanks to your body.
This fun 45 mins dance fitness class will take you around the world on a
global dance journey. It is rooted in simple choreography derived from a
combination of Indian Kathak, fusion Belly dance, Bollywood, and African
dance as well as some UK/ USA dance moves
Using an exhilarating world soundtrack and weaving Ayurveda nuggets of
wisdom together we awaken our five senses, uplift our spirits, and lose
ourselves to dance. Each class begins with some grounding breathwork,
followed by a nourishing, warm-up, luxurious stretching, strengthening,
and movement to different dance styles and music. No previous dance
experience is required.
Come, sweat, tone, and trim in this fun class and spark joy into your
day.
We are all energetic vibrations weaving together in a universal cosmic
dance. When we dance together and are fully tuned to our highest
vibrational essence, the universe dances harmoniously with us.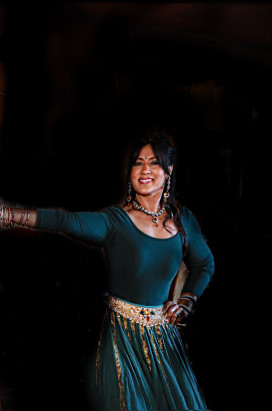 DANCE & MOVE & CELEBRATE LIFE, IN ALIGNMENT WITH NATURE AND CIRCADIAN
RHYTHMS.
British Born Nandini Austin is a certified Ayurveda Movement Coach,
Dancer, Health Counselor, and Teacher of Wellness. No matter how out of
balance we may feel, Nandini believes that when we return to the basics
of nature, we can (and will!) live a life filled with vibrancy joy,
freedom, and health and ultimately evolve as spiritual beings. As a
graduate of Kerala Academy in Ayurveda - The Ancient Indian Healthcare
System and Science of Life, Nandini reminds us to remind us to live
consciously, eat, drink, and move in alignment with nature and our
surrounding environment.
Bringing Ayurveda the sister life science to Yoga to the modern
generation is something that Nandini is extremely passionate about
sharing! Whether you join her weekly global Ayurvedance classes, visit
her for Ayurveda Health Coaching, or subscribe to her Ayurveda Magazine,
Nandini aspires to teach you how to apply this beautiful philosophy and
practices to your everyday life. Her vision is to empower you to harness
the vibrant health and happiness that lives within.
Nandini facilitates happiness, compassion, and connection to the self,
and spirit in her non-judgment classes. Nandini seeks to build community
through Ayurveda - Ayurveda and Dance! bringing diversity and culture
everywhere she goes.
Nandini's modalities include :
*
Ayurveda Dance / Movement classes Global Dance Fusion, Aqua Veda Dance
Aerobics, Water Therapy, Yoga breathwork & meditation
*
Holistic Health Coaching Lifestyle/ Ayurveda Nutrition
---