Oct 3, 2023, 7:00–9:00 pm
Free through Sacred Reciprocity
Marbletown Community Center
3564 Main St., Stone Ridge, NY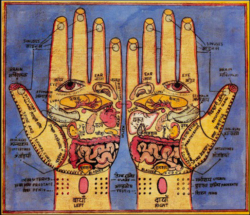 Marma Therapy is an ancient Ayurvedic practice developed centuries ago in India. It is essentially Ayurvedic acupressure and energy work. Each Marma point is connected to different energy pathways throughout your body. It is similar to acupuncture, although no needles are used. Instead, a Marma Therapist uses pressure, vibration and herbal oils to open up blocked energy pathways. You can also do Marma on yourself. Doctor Lad, who Ami studied Marma therapy with, states, "Touching a Marma point changes the body's biochemistry and can unfold radical, alchemical changes in one's makeup. Stimulation of these inner pharmacy pathways signals the body to produce exactly what is needs, including hormones and neurochemicals that heal the body, mind and consciousness." Come give and receive this relaxing and meditative practice. (No partner is necessary as we will pair up at the workshop.)
Bring a blanket and pillow or any other items you need for being comfortable laying on the floor.
THE WORKSHOP IS FULL.
REGISTER TO GET ON THE WAITLIST

ABOUT
Ami Jayaprada Hirschstein is a Certified Ayurvedic Practitioner and Yoga Therapist. She founded and directed two New Paltz Yoga studios: Jai Ma Yoga Center from 1999-2015 and YogAlive 2015-2017. Ami has received teaching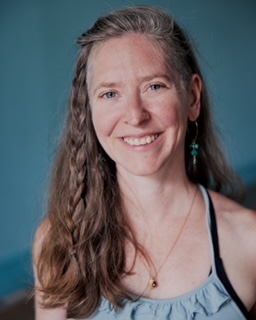 certifications as an Anusara Yoga and Kripalu Yoga Teacher and Phoenix Rising Yoga Therapist. She has been teaching holistic healing and yoga in the Hudson Valley and beyond since 1995.
Ami did her Advanced Ayurvedic Practitioner Training with Dr. Sehgal of Boston Ayurveda. She trained in Marma Therapy with Dr. Lad at The Ayurvedic Institute. Ami studied as an Ayurvedic Health Counselor with the Kripalu School of Ayurveda. She belongs to the International Association of Yoga Therapists and National Ayurvedic Medical Association. Ami has been leading Yoga Teacher Trainings since 2001.
Ami works with clients to create balance and health through diet and lifestyle. The body, mind, senses and spirit all shape a person's sense of well-being. Ami's holistic approach works with all these aspects to guide her clients and students to make life changing shifts. Ami helps her clients stay on track by working with them to set and achieve goals.