Jun 4, 2023, 4:00–6:00 pm
The Kiva
3588 Main St,
Stone Ridge, NY
(Behind MaMA)
Regenerative Real Estate is an emerging field that is learning to answer the call for healing between people and place and planet. It is not a single panacea, but a new (maybe old) way of relating with our homes, land, community, and planet. We lead with open-hearted inquiry and an intention to enter right relationship with our place.
We've created a framework to help us, which we call the 5 Roots of Regeneration--Health & Wellness, Sustainability, Community, Ecology, and Spirit. This provides us with some helpful entry points into how we can work within the existing real estate paradigm and listen for potential that goes beyond the traditional real estate sense of "highest and best use" and actually attunes to opportunities for healing (regeneration).
What would it look like for real estate to align with life affirming principles rooted in sacred reciprocity and wholeness, not holding us as separate from our place?
I invite us to hold this inquiry together to listen for new connections, new creative tensions, and new potentials for real estate to be in service to life flourishing, not the other way around. How might this look right here? How might we create the conditions for this to germinate and thrive here?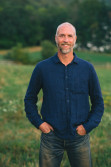 David Todd has worked at the fertile edges of real estate since 2004, first in Portland, Oregon for 15 years, and now in the Hudson Valley. As a REALTOR and consultant, he's worked on residential Living Building Challenge and Passive House projects, cottage clusters and cohousing developments, and the systemic community engagement to initiate the market transformation needed to support these efforts. Now, as a Partner and Head of Community at Latitude, David seeks to further transform the role and capacity of agents and real estate professionals to be catalysts for healing our relationship with home, place, and planet.