Oct 22, 2023, 4:00–6:00 pm
The Kiva
3588 Main St,
Stone Ridge, NY
(Behind MaMA)
You're invited to an interactive afternoon on

Intentional Community Creation.

If "intentional community creation" enlivens you and inspires curiosity in you, then you'll have warm company to welcome you into a generative conversation.

David will be facilitating an interactive session to surface the many faces and facets of intentional communities that want to emerge in our area.

Our interaction will aim to Illuminate and raise up:
types of community
legal structures
housing types
governance & interpersonal capacities
ownership, membership, & stewardship
thought forms & useful experiments
purpose & essence

We'll refine our quality of thinking and imagining around what's possible, and we'll listen for connections, insights, resources, emergent potentials, and baby steps that arise when we intentionally explore intentional communities.

To learn more about our facilitator, David Todd: https://chooselatitude.com/davidtodd

*NOTE: It is likely that this gathering will spark a longing for follow up meetings, site visits, potlucks, and other means of convening. We'll make space for connection, networking, and inviting next steps.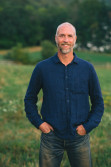 David Todd has worked at the fertile edges of real estate since 2004, first in Portland, Oregon for 15 years, and now in the Hudson Valley. As a REALTOR and consultant, he's worked on residential Living Building Challenge and Passive House projects, cottage clusters and cohousing developments, and the systemic community engagement to initiate the market transformation needed to support these efforts. Now, as a Partner and Head of Community at Latitude, David seeks to further transform the role and capacity of agents and real estate professionals to be catalysts for healing our relationship with home, place, and planet.
---