Oct 10, 2019, 7:00–9:00 pm
$150
MaMA, Marbletown Multi-Arts
3588 Main Street
Stone Ridge, NY 12484

The Holistic Health Community in collaboration with the Morty and Gloria Wolosoff Foundation and MaMA Presents
The Elder Odyssey: A Rite of Passage for Mature Adults
A SIX WEEK WORKSHOP
THURSDAYS
OCTOBER 10 - NOVEMBER 14
7 - 9 pm
Fee $150
Please register in advance CLICK HERE
Many of us, having grown up In a society that focuses on productivity and the material world are at a loss when entering a stage of life where the skills and knowledge we acquired don't seem to apply anymore. Who are we when we are no longer a job title, a parent, a provider? How do we navigate this new, virtually unknown terrain of no longer working nine to five, no longer being defined by what we do?
This course is designed to offer a compass and companionship for the journey. It is challenging but there are some tools and roadmaps available to us. We will gather in community to explore this together and learn not only from the insights of those who have gone before but from each other as well.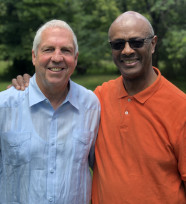 The Facilitators:
Lester Strong is the president of Courtney Strong, Inc. and principal architect of the Peaceful Guardians Project. He is the former CEO of AARP Foundation Experience Corps, which serves 30,000 elementary students per year who struggle with reading in 23 cities across the United States. He was also a television journalist and producer in New York City, Boston, Atlanta and Charlotte as well as a retired captain in the United States Army Reserves. He has been a student of Eastern philosophies and meditation for over four decades. Lester is a graduate of Davidson College and Columbia University Business School's Institute for Non-profit Management.
Ev Mann is a musician/educator with wide experience in the non-profit sector as the founder and executive director of the Center for Creative Education and MaMA, Marbletown Multi-Arts. Ev has masters degrees in Religious Studies and Music Composition and currently co-leads the Encore Transition Program at Union Theological Seminary in NYC.