Aug 12, 2022, 5:00–6:30 pm
Rosendale Municipal Parking Lot
Hardenburgh Ln, Rosendale, NY 12472
Behind the Rosendale Theatre and Big Cheese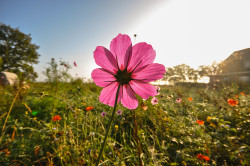 2nd and 4th Fridays of July and August
8/12 & 8/26
5pm-6:30pm
Location: Rosendale Municipal Parking Lot - meet at the gazebo
Facilitator: Diana Brenes Seiler, LMT

We will gather and then go on a walk about together harvesting wildflowers and greenery. Once satisfied with our finds, we'll return to the gazebo or picnic tables in the grass to arrange our collections into a beautiful design of color and texture. Diana will offer suggestions for enhancing the design. Take home your bouquet to act as a visual gift in a prominent or special place.
If possible, bring: a vase, tall glass jar or bottle and garden clippers. Bring multiple vessels of various sizes if you wish! Diana will bring water and some extra supplies.
Please REGISTER HERE if you plan to attend so that we can expect you. Thank you!
Facilitator: Diana Brenes Seiler, LMT
Diana began practicing the art of flower arranging at age 15 while working at a florist. This relaxing practice has opened her eyes to the vibrancy of the natural world to bring healing and joy in a visual gift. These wild arrangements bring the outdoors indoors to be a marvel of color, form and pattern that celebrates the mercurial season - an enhancement for any space. Diana studied Fine and Visual Arts in College and has had a career as a licensed massage therapist since 2006. She also teaches Thai Yoga Massage trainings in the Hudson Valley.
Contact Diana: soiltosoul@holistichealthcommunity.org or (845) 641-5311